Medical Treatment
A primary health care and specialty clinic using acupuncture, naturopathic medicine, and nutritional counseling.

Qualified Doctors
Our licensed naturopathic physicians and acupuncturists are experts in their field.

Diet and Nutrition
Detailed food planning tailored to individual needs and medical conditions. Medical programs for weight loss and detoxification.

Individualized Care
We take into account each individual's unique physical, mental, emotional, genetic, environmental, and social attributes.
Watch Dr. Rachel on The Suzanne Show
Testimonials
Thanks so much for all of your extra kind service today. You guys are all amazing and I'm lucky to be a part of your practice, especially Dr. Rachel who always goes over and above for me.

Thanks to Dr. Rachael and her staff for all they have done to improve my health. I always leave the office feeling that I have made the right choice for my health care.

After many years of hormonal imbalance and being on Premarin, (knowing that there were possible side effects), I visited with Dr. Rachael Burnett.  She was able to balance my hormones using a safer alternative. What a relief to feel like myself again.

I highly recommend Dr. Rachel! She took time to really listen to my health concerns and schedule the right labs. She tailored a health program specific to my needs. In 3 months I had fixed or greatly improved all my health issues, regained my energy, lost 24 pounds and finally felt like myself again. I can't say thank you enough!

I have been a patient of Rachel Burnett for over 5 years. She has helped me go through menopause and face challenges of fibromylasia. My primary care dr. did not have any answers for me during this transition in my life, yet Rachel worked patiently with me offering many suggestions which became solutions that have helped me feel like myself...

I feel that because of Dr. Rachel's suggestions and knowledge I feel better than I have felt in years. I am grateful for her time and listening ear. She has a strong desire to help people with many health challenges and persistently looks for solutions. I appreciate all she has done to make me healthier, happy and feeling much better!

The Doctor's and staff at Utah Natural Medicine are exceptional! I feel at home when I am there and know I am getting the best care possible. It is nice to feel that your doctor and staff care about you and your wellness. They have changed my life in regards to my health…..thank you!!

Our daughter was diagnosed with ADD and slight Asperger's. She was prescribed ADD medications.The side effects were too much to tolerate.Dr. Matthew Burnett identified areas to test that were overlooked.Shortly after she began the prescribed regimen, we saw significant changes.She is now thinking clearly, happy, focused, active and is interested in family and friends.You saved her life!

I have discovered the power of radiant physical health and boosted energy at Utah Natural Medicine. I am eternally grateful to Dr. Rachel and Dr. Matthew; a combination of bio-identical, natural hormonal therapy replacement combined with the craniosacral technique has liberated me from chronic pain, fatigue and many other health issues.  I highly recommend them.

Dr. Rachel is awesome – and her staff is too. She has really helped me with my thyroid, hormone levels, pain problems, etc. She treats your whole health, and is very interested in getting you to feel your best. I have suggested her to many friends and will continue to do so.

I had been sick for many years, and other doctors just wrote scripts for the symptoms (causing more side effects), without running tests to find out what was wrong… A friend suggested Dr. Burnett at Utah Natural Medicine. What I experienced was so much better than I was used to. Everyone, from the receptionist to the doctors were very friendly.

My most recent bone density test showed marked improvement.  My spine is normal and hip is "better than normal for my age." Utah Natural Medicine established the hormone balance combined with effective supplements that led to this reversal of bone loss for me.  Thank you, thank you, thank you.

We are proud to announce that Dr. Rachel Burnett has been selected as an expert in Bio-Identical Hormone Replacement Therapy and Age-Management Medicine by Forever Health, a resource connecting patients with physicians in the latest and most cutting-edge advances in these areas.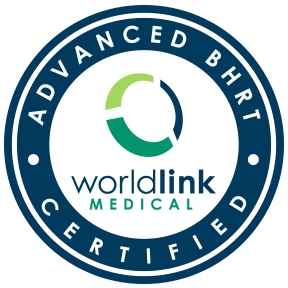 Advanced Bio-Identical Hormone Replacement Certification awarded to Dr. Rachel Burnett by WorldLink Medical, the Academy for Preventive and Innovative Medicine